Warning: A non-numeric value encountered in /customers/d/a/6/globalsurfski.com/httpd.www/wp-content/themes/gonzo/single.php on line 52 Warning: A non-numeric value encountered in /customers/d/a/6/globalsurfski.com/httpd.www/wp-content/themes/gonzo/single.php on line 53 Warning: A non-numeric value encountered in /customers/d/a/6/globalsurfski.com/httpd.www/wp-content/themes/gonzo/single.php on line 54 Warning: A non-numeric value encountered in /customers/d/a/6/globalsurfski.com/httpd.www/wp-content/themes/gonzo/single.php on line 55 Warning: A non-numeric value encountered in /customers/d/a/6/globalsurfski.com/httpd.www/wp-content/themes/gonzo/single.php on line 56 Warning: A non-numeric value encountered in /customers/d/a/6/globalsurfski.com/httpd.www/wp-content/themes/gonzo/single.php on line 57 Warning: A non-numeric value encountered in /customers/d/a/6/globalsurfski.com/httpd.www/wp-content/themes/gonzo/single.php on line 58

Surfski Races Published on July 20th, 2012 | by Peter Svensson
1
Aterra Wave Challenge 2012
Last weekend was the annual surfski race Aterra Wave Challenge held for the third time. Aterra Wave Challenge is a 17 km downwind race starting in Helsingborg on the Swedish south west coast.  This year it gathered 31 participants from Sweden, Denmark, Germany, Poland and Portugal. Tommy Karls who is dominating the Swedish Surfski scene won this year's race in front of the Swedish marathon kayaking specialist Jacob Holst.  Joan Santos from Portugal finished 3rd. It has been really windy the last week but saturday was a pretty calm day with winds from south about 3 kn. The race started from the beach Fria Bad in central Helsingborg.  After the first turning point, a bouy marking the busy waterway between Denmark and Sweden, about 1 km from the beach we got a gentle downwind for 15 km. There were small runs to catch all the way to the second turning point, the lighthouse Svinabådan, before sprinting to the finsih on the beach in the picturesque village of Viken.
The race course in Aterra Wave Challenge. The Danish coast at the left and the Swedish to the right.
Skippers meeting prior the race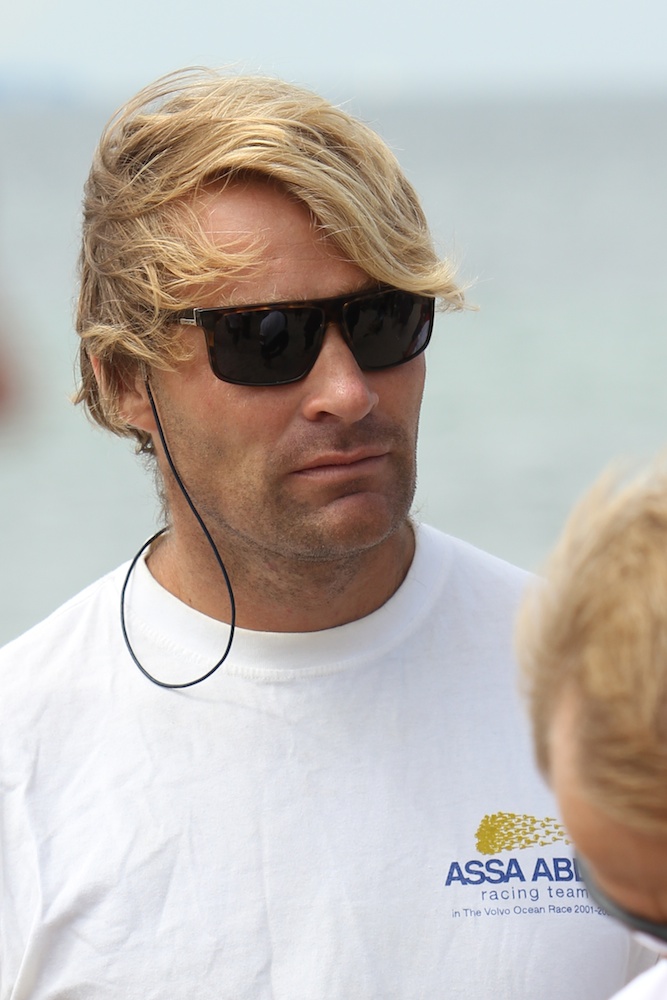 Martin Nordstrand was listening to the information given at the skippers meeting. Martin did a great race and finihed in fourth position.
And of we go! Heading straight to Denmark to reach the first bouy before turning north. On the left you can see the tower of the castle Kronborg in Denmark, immortalized as Elsinore in William Shakespeare's play Hamlet.
Tommy Karls is going for the win. The Lighthouse Svinabådan is the second point at the race before the final sprint to the beach in the small village of Viken.
Tommy Karls crosses the finish line with a smile on his face after a great race.
Jacob Holst finished second.
Leif Davisson (to the right) who is organizing the Aterra Wave Challenge finsished side by side in a sprint duel with Pedro Pontes.
Emma Nilsson from Westcoast Badass Surfskiers won the women race!
Sofia Bågenhammar from Stockholm is about to cross the line and finished  second in the women race.
Evy Lantz is a happy paddler from Westcoast Badass Surfskiers sprinting to the finish.
The winners Emma Nilsson och Tommy Karls flanked by Evy Lantz, Sofia Bågenhammar, Jacob Holst och Jao Santos (from Portugal)
Results
Women
Emma Nilsson 1,33,03
Sofia Bågenhammar 1,36,23
Evy Lantz 1,37,37
Jeanie Dougherty 1,45,25
Karolina Silfverberg 1,52,57
Zsuzsa Z ST
Eva Egnell ST
Men
Tommy Karls, Fenn Elit 1.11.31
Jacob Holst, NK Fusion 1.15.20
Joao Santos, CS Atom 1.15.54
Martin Nordstrand 1.17.04
Fredrik Wangler 1.17.36
Johan Skärskog 1.17.59
Lutz Erichsen 1.19.05
Jens Thorild 1,20,03
Fredrik Lindström 1,21,51
Jonas Hollander 1,24,09
Maciej Chwieros 1,26,05
Simon Thirwall 1,28,05
Magnus de Brito 1,28,40
Karl Sjöstrand 1,29,28
Pedro Pontes 1,30,46
Leif Davidsson 1,30,50
Lennart Olsson 1,31,02
Peter Svensson 1,34,59
Henrik Malmrup 1,40,28
Kristoffer Håkansson 1,41,49
Mats Lundquist 1,48,23
Thomas Olsson ST
Cristian Cronberg ST
Kristian Hillstedt ST