Warning: A non-numeric value encountered in /customers/d/a/6/globalsurfski.com/httpd.www/wp-content/themes/gonzo/single.php on line 52 Warning: A non-numeric value encountered in /customers/d/a/6/globalsurfski.com/httpd.www/wp-content/themes/gonzo/single.php on line 53 Warning: A non-numeric value encountered in /customers/d/a/6/globalsurfski.com/httpd.www/wp-content/themes/gonzo/single.php on line 54 Warning: A non-numeric value encountered in /customers/d/a/6/globalsurfski.com/httpd.www/wp-content/themes/gonzo/single.php on line 55 Warning: A non-numeric value encountered in /customers/d/a/6/globalsurfski.com/httpd.www/wp-content/themes/gonzo/single.php on line 56 Warning: A non-numeric value encountered in /customers/d/a/6/globalsurfski.com/httpd.www/wp-content/themes/gonzo/single.php on line 57 Warning: A non-numeric value encountered in /customers/d/a/6/globalsurfski.com/httpd.www/wp-content/themes/gonzo/single.php on line 58

Italy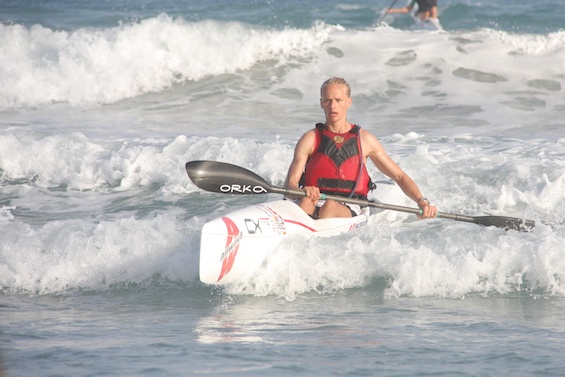 Published on October 4th, 2012 | by Peter Svensson
0
Results Ohana Mana Cup 2012
The surfski race Ohana Mana Cup in Sardinia was held last weekend. Instead of a 38 km downwind race it became a 21 km surfski race on a triangular course that were paddled three laps. The race organization was somewhat chaotic and there was three false starts. Jasper Mocke was the one who managed the conditions and the false starts best this time. Simon Van Gysen was ill the day before the race and he did a great race finished second, just 44 seconds after Jasper. Aussie Dane Sloss showed once again that he is a good surfski paddler and finished in third position.
Alexa Cole from SA won the women's race almost five minutes in front of the young French upcoming paddler Angie Mouden followed by Chloe Bunnett from the UK.
I will sum up my point of view from the race during the next coming days.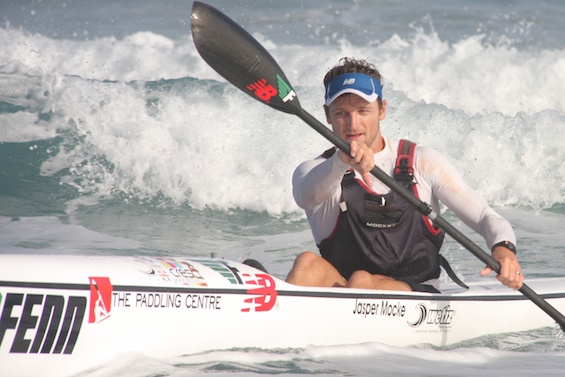 Jasper Mocke was victorius and finished first!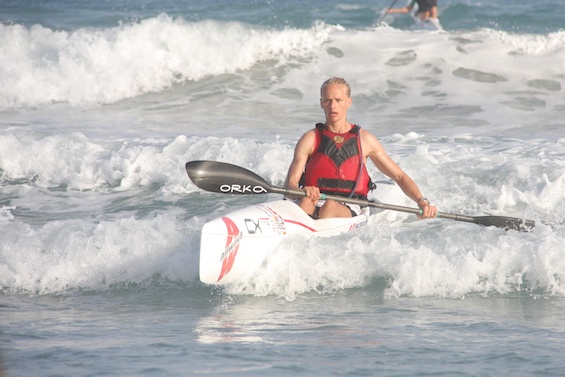 Alexa Cole won the women's race in 1.56.32
Country
Name
Category
Canoe
Brand
Time
1
South Africa


Jasper Mocke
Open
SS1
Fenn
1.36,30
2
South Africa


SimonVan Gysen
open
SS1
Allwave
1.37,14
3
Australia


Dane Sloss
Open
SS1
Allwave
1.39,14
4
South Africa


Scott Rutherfoord
Open
SS1
Fenn
1.42,50
5
France


Le Roux Benoit
Open
SS1
Okrea
1.43,28
6
Spain
FedericoVega Suarez
Open
SS1
Epic
1.44,48
7
Germany


Harbrecht Gordan
Master
SS1
Epic
1.44,59
8
South Africa


Dominic Notten
Open
SS1
Fenn
1.45,41
9
South Africa


Craig Flanagan
Under 23
SS1
Allwave
1.45,48
10
Spain


Luis Amado Perez Blanco
Under 23
SS1
Epic
1.46,10
11
Germany


Thomas Zachert
Master
SS1
Fenn
1.46,38
12
Sweden
Tommy Karls
Master
SS1
Fenn
1.47,26
13
France
Roland Lebeau
Master
SS1
Fenn
1.48,06
14
Germany
Michael Dobler
Master
SS1
Fenn
1.48,06
15
Australia
Mark Minchin
Open
SS1
Fenn
1.48,50
16
Australia


Billy Bain
Under 23
SS1
Fenn
1.49,05
17
Spain
Daniel Sanchez Viloria
Open
SS1
Fenn
1.49,30
18
Italy
Mariano Bifano
Open
SS1
Allwave
1.49,42
19
Germany
Steffen Burkhardt
Master
SS1
Epic
1.50,13
20
Italy


Paolo Sfamani
Open
SS2
Fenn
1.50,21
Italy


Daniele Scarpa
Open
SS2
Fenn
1,50,21
21
Spain
Jose Antonio Giron Gonzalez
Master
SS1
Epic
1,50,28
22
Sweden
Paul Rosenquist
Open
SS1
Epic
1,50,35
23
Spain
Agustin Ordones Blanco
Open
SS1
Fenn
1.52,02
24
Iran


Reza Nasiri
Open
SS1
Allwave
1.52,10
25
France
Paul Eyquem
Master
SS1
Fenn
1.52,32
26
Czech Republic
Tomas Slovak
Open
SS1
Vajda
1.52.32
27
Germany
Robert Ernst
Master
SS1
Fenn
1.52,36
28
Germany


Jan Burgdorf
Open
SS1
Fenn
1.53,30
29
France
Valentin Henot
Open
SS1
Fenn
1.54,07
30
Spain
Ignacio Soler Fabre
Under 23
SS1
Epic
1.55,46
31
Sweden


Ola Strom
Open
SS1
Vajda
1.56,11
32
France
Didier Vavasseur
Master
SS1
Epic
1.56,23
33
South Africa


Alexa Cole
Open
SS1
Allwave
1.56,32
34
Hungary


Kristòf Làgler
Under 23
SS1
Epic
1.56,58
35
Brasil


Josè Marcos mandes Filho
Open
SS1
Vajda
1.57,48
36
Germany


Eberhard Joachim
Open
SS1
Fenn
1.57,55
37
Sweden


Johan Skarskog
Master
SS1
Fenn
1.58,03
38
Hungary


Sebestyén Makàry
Under 23
SS1
Epic
1.58,38
39
RAS (Sardinia)


Alessandro Gaudino
Open
SS1
Red 7
1.58,47
40
Holland


Emiel Beukenkamp
Master
SS1
Epic
1.59,28
41
Spain
Juan Carlos Sanchez Costas
Master
SS1
Epic
1.59,34
42
Slovakia


Martin Vajda
Under 23
SS1
Vajda
1.59,55
43
Hungary


Heinez Sandor
Master
SS1
Pornyeszi
2.00,08
44
Czech Republic


Jonatàn Sramek
Under 23
SS1
Vajda
2.00,21
45
Hungary


Adam Schmuck
Open
SS2
Epic
2.00,34
46
Hungary


Nej Zsolt
Open
SS2
Epic
2.00,34
47
France
Michael Fargier
Open
SS1
Nelo
2.01,04
48
France


Angie Mouden
Open
SS1
Okrea
2.01,09
49
Hungary


Gabor Varga
Open
SS1
Epic
2.02,08
50
Sweden


Jacob Holst
Open
SS1
Think
2.03,06
51
UK
Chloe Bunnett
Open
SS1
Epic
2.04,28
52
Hungary


Robert Mussinger
Master
SS1
Epic
2.05,51
53
Romania


Rajmund Milan Molnar
Open
SS1
Pornyeszi
2.07,25
54
Italy


Elisabetta Bassanelli
Open
VR2
Allwave
2.09,20
Italy


Gianni Montagner
Open
VR2
Allwave
2.09,20
55
Italy


Maurizio Tognacci
Master
SS1
Fenn
2.09,21
56
Italy


Davide Guidi
Open
VR2
Allwave
2.09,27
Italy


Daniele Dickmann
Open
VR2
Allwave
2.09,27
57
Slovakia


Marcel Vajda
Open
SS1
Vajda
2.09,45
58
South Africa


Mario Graziani
Master
SS1
Fenn
2.09,52
59
Italy


Niccolò Polesello
Open
SS1
Vajda
2.10,28
60
South Africa
Ian Russell
Master
SS1
Fenn
2.10,52
61
Hungary


Tamàs Petri
Open
SS1
Epic
2.10,57
62
Venezuela


Josè Silvanava
Open
SS1
2.12,30
63
Venezuela


Luis Villalba
Master
SS1
Fenn
2.12,45
64
Italy


Marco Urbinati
Open
SS1
Allwave
2.13,18
65
South Africa
Clive Harpur
Master
SS1
Epic
2.14,42
66
RAS


Michele Crisi
Master
SS1
Fiberglass
2.15,13
67
Venezuela


Joel Gonzàlez
Open
SS1
Fenn
2.16,11
68
Italy


Idelfonso Cosenza
Master
SS1
2.16,41
69
Italy
Luca Raspanti
Master
SS1
Fiberglass
2.17,07
70
France
Fabien Roche
Master
SS1
Okrea
2.18,59
71
RAS
Gianluca Basciu
Master
SS1
Fiberglass
2.22,11
72
Venezuela


Edgar Lòpez
Master
SS1
Fenn
2.23,21
73
Italy


Giuliano Remelli
Master
SS1
Fiberglass
2.23,31
74
RAS


Francesco Sirimarco
Open
SS2
Fenn
2.24,07
RAS


Telemaco Murgia
Open
SS2
Fenn
2.24,07
75
Italy
Giancarlo Miolla
Master
Vr1
Allwave
2.25,44
76
Venezuela


Carlos Torres
Open
SS1
Fenn
2.25,49
77
RAS
Tatiana Carzedda
Open
SS1
Fiberglass
2.27,19
78
France
Eric Dupont
Master
SS1
Fenn
2.27,45
79
Italy
Luca Barnaba
Open
Vr1
Esox
2.27,58
80
RAS
Peter Mias
Master
Vr1
Allwave
2.30,07
81
RAS
Eugenio Conti
Master
Vr1
Allwave
2.30,21
82
Italy


Giuliano Raspante
Open
Vr1
Allwave
2.35,21
83
Italy
Jacopo Colombi
Open
VR2
Allwave
2.46,51
Italy
Jennifer Ortebah
Open
VR2
Allwave
2.46,51