Warning: A non-numeric value encountered in /customers/d/a/6/globalsurfski.com/httpd.www/wp-content/themes/gonzo/single.php on line 52 Warning: A non-numeric value encountered in /customers/d/a/6/globalsurfski.com/httpd.www/wp-content/themes/gonzo/single.php on line 53 Warning: A non-numeric value encountered in /customers/d/a/6/globalsurfski.com/httpd.www/wp-content/themes/gonzo/single.php on line 54 Warning: A non-numeric value encountered in /customers/d/a/6/globalsurfski.com/httpd.www/wp-content/themes/gonzo/single.php on line 55 Warning: A non-numeric value encountered in /customers/d/a/6/globalsurfski.com/httpd.www/wp-content/themes/gonzo/single.php on line 56 Warning: A non-numeric value encountered in /customers/d/a/6/globalsurfski.com/httpd.www/wp-content/themes/gonzo/single.php on line 57 Warning: A non-numeric value encountered in /customers/d/a/6/globalsurfski.com/httpd.www/wp-content/themes/gonzo/single.php on line 58

Portugal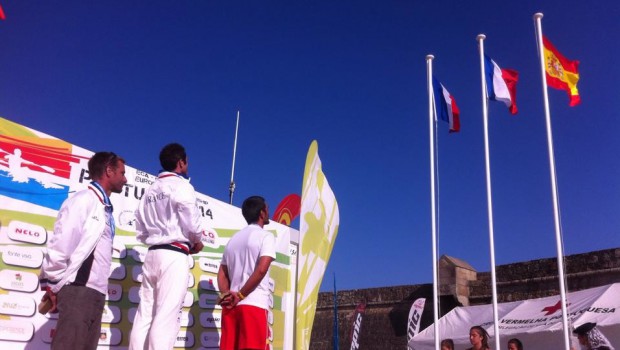 Published on August 15th, 2014 | by Peter Svensson
0
French domination in the Euro Champs
The French surfski team dominated in the inaugural European Ocean Racing Championship. Angie Mouden (Fra) won the women's race and Laousse Yannick (Fra) won the men's race. Five of the top 10 were french paddlers in the men's race.
The sprint paddler Max Hoff (Ger) started really hard and was the first paddler to pass the bouy and turn downwind. Joep van Bakel (Hol) was chasing him and overtook him about half way in the race. For a long time Joep seemed to be the winner but the French and Spanish paddlers choose a line closer to the beach. When the paddlers got closer to the finish it became obvious for the spectators that Laousse Yannick, Benoit Le Roux (Fra), Daniel Viloria (Spa) and Esteban Ojeda Medina (Spa) was in front of Joep.
In the women's race Angie Mouden (Fra) went straight to the lead and she kept it til the finish. Sara Rafael (Por) finished 2nd and Chloe Bunnett (GB) finished 3rd.
(Photo: Okrea Kayaks)
Results European Ocean Racing 2014
Seems like they have some technical problems with the distribution of the results in Portugal. No official results for the women so far and only 56 from the men's race . I will update when more results are official.
| | | | |
| --- | --- | --- | --- |
| Position | Name | Country | Time |
| 1 | Laousse Yannick | France | 01:38:54 |
| 2 | Benoit Le Roux | France | 01:39:42 |
| 3 | Daniel Viloria | Spain | 01:40:06 |
| 4 | Esteban Ojeda | Spain | 01:40:14 |
| 5 | Joep Bakel | Netherlands | 01:41:13 |
| 6 | Walter Sánchez | Spain | 01:41:44 |
| 7 | Pelizza Noé | France | 01:42:03 |
| 8 | Nowakowski Florent | France | 01:42:41 |
| 9 | David Fernandes | Portugal | 01:42:49 |
| 10 | Henot Valentin | France | 01:42:54 |
| 11 | Agustin Blanco | | 01:43:10 |
| 12 | Szlachta David | | 01:43:22 |
| 13 | Guilherme Cabral | | 01:43:36 |
| 14 | Mickael Fargier | | 01:43:38 |
| 15 | Federico Vega | | 01:43:45 |
| 16 | Victor Doux | | 01:43:50 |
| 17 | Antoine Bihannic | | 01:44:08 |
| 18 | Luiz Ventura | | 01:44:18 |
| 19 | Mark Ressel | | 01:44:31 |
| 20 | Michael Dobler | | 01:44:49 |
| 21 | Emiel Beukenkamp | | 01:45:05 |
| 22 | Bruno Rafael | | 01:45:06 |
| 23 | Stephane Roudaut | | 01:45:09 |
| 24 | Alvaro Fiuza | | 01:45:15 |
| 25 | Robin Koenders | | 01:45:18 |
| 26 | Luis Blanco | | 01:45:20 |
| 27 | Alberto Blanco | | 01:45:26 |
| 28 | Albert Bertran | | 01:45:35 |
| 29 | Antonio Giron | | 01:45:40 |
| 30 | Vincent Naert | | 01:45:54 |
| 31 | Manuel Fernandez | | 01:46:28 |
| 32 | Orlando Silva | | 01:46:32 |
| 33 | Jonathan Lopez | | 01:46:42 |
| 34 | Paul Eyquem | | 01:46:47 |
| 35 | Tommy Karls | | 01:47:00 |
| 36 | Hugo Lima | | 01:47:15 |
| 37 | Mikel Lauzirika | | 01:47:23 |
| 38 | Lebeau Roland | | 01:47:31 |
| 39 | Antonio Garcia | | 01:47:46 |
| 40 | Pablo Pablo | | 01:47:47 |
| 41 | Ekaitz Saies | | 01:47:49 |
| 42 | Max Hoff | | 01:48:18 |
| 43 | João Silva | | 01:48:25 |
| 44 | Paul Rosenquist | | 01:48:29 |
| 45 | Lander Rodriguez | | 01:48:47 |
| 46 | Fábio Cameira | | 01:48:48 |
| 47 | Fifils Franck | | 01:49:06 |
| 48 | Martin Nordstrand | | 01:49:13 |
| 49 | Jordi Ribas | | 01:49:16 |
| 50 | Ola Ström | | 01:49:33 |
| 51 | Carlos Cruz | | 01:49:45 |
| 52 | Steven Dierckx | | 01:49:51 |
| 53 | Carlos Marques | | 01:49:55 |
| 54 | Gonçalo Tomás | | 01:49:58 |
| 55 | Guillermo Calleja | | 01:50:08 |
| 56 | Carlos Garcia medina | | 01:50:32 |