Here is Paul Rosenquist's story and experience of his participation in the Aterra Wave Challenge. Happy reading folks!
But before you start reading Pauls report, I would like to take the opportunity to send a bouquet of virtual flowers to Leif Davidsson, owner of Aterra and organizer of the race series "Aterra Wave Challenge" .  From all surfski paddlers in Sweden - thank you Leif for your commitment and the positive energy you spread amongst all of us, you are doing a great job!
By Paul Rosenquist
Whilst Epic battles were held in pacific water of Durban and Mauritius I was paddling in Downtown Stockholm. Stockholm has a very busy water way and sightseeing boats, ferries, privat boats, steam boats and what ever can float is out on good days. Bumps can be caught in any direction and if your timing is on, you can lean back and hang on for fantastic runs as long as you want. 20km/h is the standard speed for all these nice wave machines..perfect for a Surfski.
Anyway, I was asked to join a SUP race that was held over 2 days here in town, at the same time a small ski race was organized in Helsingborg, an odd 600km away. Come Wednesday suddenly the weather report started to show some interesting patterns… North Westerly winds on the Wescoast! And not to bad either. 20knots at least. Some quick and decisive actions on the keyboard resulted in Tommy Karls joining me for the ride, and Fredrik Wangler tagging along from his summer house about halfway, and Peter, my old rowing buddy to rig his coastal rowing boat to give it a go.
I picked up Tommy at 07:20 outside his little town Trosa, wich (in swedish) means girls underwear. What were they thinking when they decided on that name.
Tommy came armed with a bucket of egg sandwiches and an ever bigger bucket with topics to chat about during our 5hour drive. Not a single Swedish paddler spared in our discussions.
When we finaly did come to the coast we quickly learned that the stiff NW had left and just a gentle little breeze was left…oh well..
Eventually we were about 16 paddlers and a rower on the line. Nice warmish waters, a breeze in the perfect direction, a good old swell, and some small windwaves ontop…this must be good.
The horn blasted and as usual I noticed how much I suck at starting hard. We headed out to a lighthouse 1800m off the coast. A few minutes into it I passed all but Tommy who was easily steaming ahead, in a try to catch me if you can' style. Ola and Fredrik were just behind me. At the lighthouse we noticed the current, pretty strong, and the swell and chop bouncing of the tower made it pretty interesting going around there. The nose more than happily swinged around the tower and I directly felt the acceleration as I immediately cought the first bump. Ooooh yeas…this is what we drove over here for. 16km of fun ahead. We were to keep in a 12m distance of 3 massive markers along the way… to keep us out of the shipping lane that was…
Kattegat, the waterway between Danmark and Sweden is one of the most trafficated waterways in the world. Anything that floats that needs to get into or out of the Baltic sea needs to come through this bottleneck. The strait of Gibraltar of the north. The bouys we were looking for were about 3meters high and 5km apart. Obviously we could not see them… So I aimed for Tommys back that is more impressive because of its width than its height..so the mission was..stay as close as possible. The at times reasonable big swell did see to it that he disappeared out of sight every now and then. But in honesty my focus was on the bumps ahead of me and to the side of me. Fantastic rides swooshing at 17km/h along for several hundred meters at a time sometimes.
The first bouy passed. The second one showed up on the horizon a few km later. Suddenly I noticed a HUGE freighter steam more not really on  a collision course with me, but more to my left. I also then noticed that Danmark felt closer to me than Sweden. All wrong signals. THEN I noticed Tommy did a sidestep on me and was WAY to my left suddenly. I was catching very very nice swells by then…and the bouy I was so happily aiming for was the middle of the road bouy that keeps the big ship from knocking heads with eachother…very much not were we supposed to be. Wrong bouy. I made a sharp left, and decided that with good runds, and a 'can do attitude' I should make it right before that freighter would reach me. The angled runs back towards Sweden were nice to catch, and finally the correct bouy showed up.
Unfortunately I was a bit late and had to paddle the last few hundered meters at a 90degree angeld to the current and swell..I saw Tommy running away on some nice bumps..oh well. Later the wind picked up again, and the the last 5km were absolute fun, linking the runners together. At the beach we noticed we outraced the organization. So we looked around a bit for which beach to pick. Didn't matter, we had a great paddle!
Ski paddling is in its youth here in Sweden, but when the weather is on our side, there is all the potential in the world to have some fantastic races, downwinds etc here. More and more traditional paddlers are becoming keen to give it a go now. Hearing ski paddlers giggling while riding fantastic wake waves in town, whilst cramping up in tippy racing canoes and bracing their way forward must give food for thought.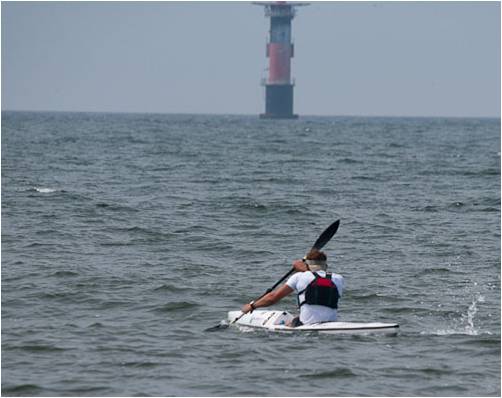 The lighthouse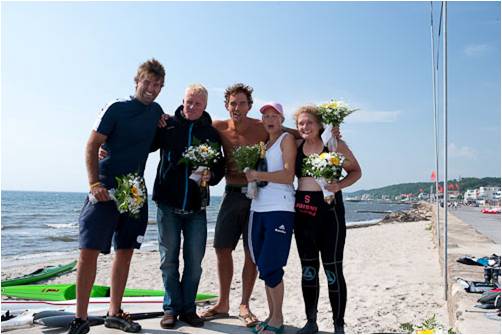 Lr: Peter the rower, RoboTommy, Paul, Karolina, Jeannie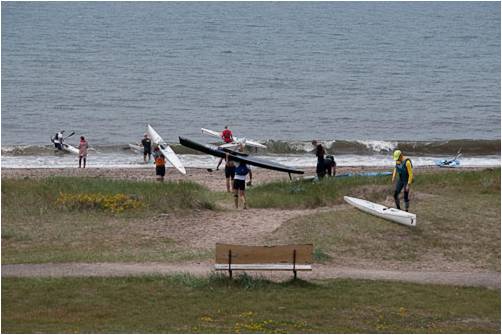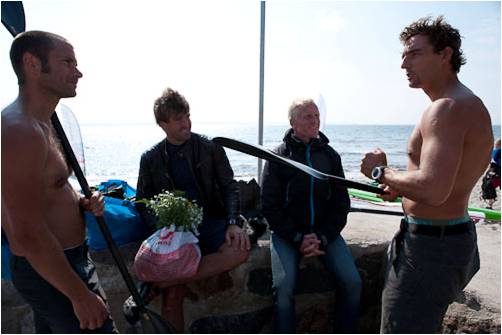 Paul manages to get in a few lines between Wanglers usually non stop explaining about how he changes all the sportsgear he buys. Peter is holding on hard in his 3rd place bouquet of flowers. Tommy is pondering what today's youth is doing..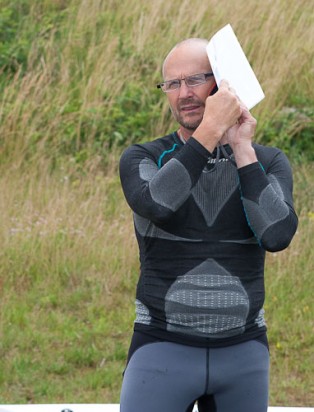 Leif Davidsson, the organizer.
 —————————————————————————————————–
Results ladies race:
Karolina Silverberg 1.38.32
Jeannie Dougherty 1.38.34
Results men's race
Tomy Karls 1.06.57
Paul Rosenquist 1.08.32
Peter Berg 1.15.03
Fredrik Wangler
Ola Ström 1.15.52
Martin Svensson 1.17.40
Andreas Abrahamsson 1.17.53
Leif Davidsson 1.23.34
Mats lindgren 1.25.04
Lennart Olsson 1.35.42
Karl Sjöstrand 1.40.37
Lars Hesslow 1.42.08
Niklas Lagesson 1.43.07
Jörgen Tjernberg 1.45.22