Warning: A non-numeric value encountered in /customers/d/a/6/globalsurfski.com/httpd.www/wp-content/themes/gonzo/single.php on line 52 Warning: A non-numeric value encountered in /customers/d/a/6/globalsurfski.com/httpd.www/wp-content/themes/gonzo/single.php on line 53 Warning: A non-numeric value encountered in /customers/d/a/6/globalsurfski.com/httpd.www/wp-content/themes/gonzo/single.php on line 54 Warning: A non-numeric value encountered in /customers/d/a/6/globalsurfski.com/httpd.www/wp-content/themes/gonzo/single.php on line 55 Warning: A non-numeric value encountered in /customers/d/a/6/globalsurfski.com/httpd.www/wp-content/themes/gonzo/single.php on line 56 Warning: A non-numeric value encountered in /customers/d/a/6/globalsurfski.com/httpd.www/wp-content/themes/gonzo/single.php on line 57 Warning: A non-numeric value encountered in /customers/d/a/6/globalsurfski.com/httpd.www/wp-content/themes/gonzo/single.php on line 58

Uncategorized Published on June 3rd, 2012 | by Peter Svensson
0
Great weather application for planning downwind paddling
Ocean Forcast (notice the spelling) is a great application for the iPad. It gives you an overview of any GPS position covered by www.yr.no. The Ocean forcast application is very simple and gives you an updated weather forecast with information about wind speed and directions,  wave heights, currents and general weather.  With this application you can get weather information quick and easy. It's free! 🙂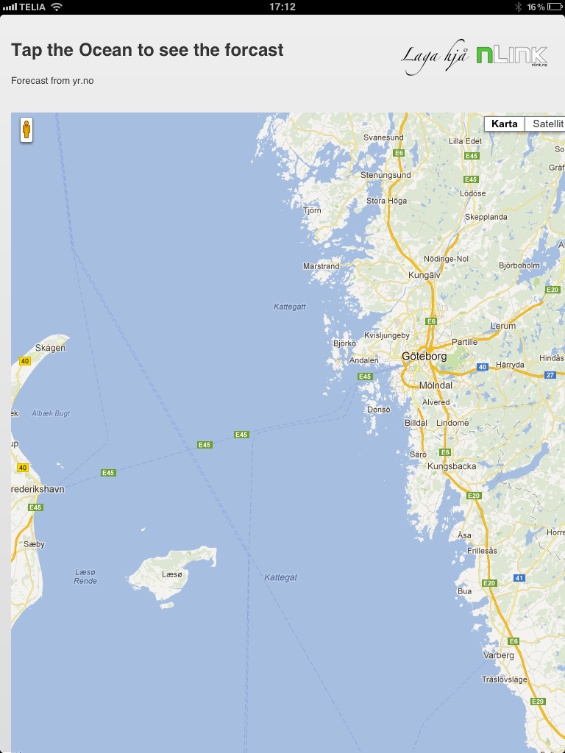 When you start the application it will show you a map. You can pan and zoom to desired location. Then just tap at the map. I tapped south of Donsö in Göteborg Archpelago.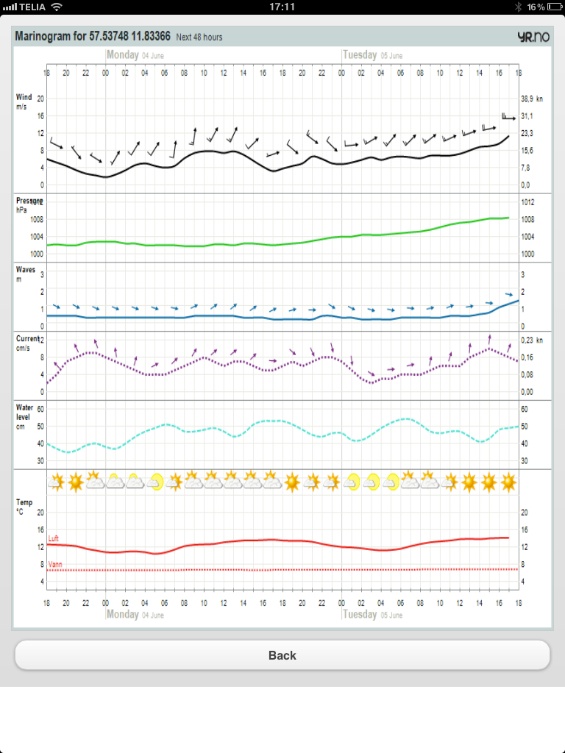 When you tap at the map the application connect to www.yr.no and collect needed data from the location you tapped and present it on a chart for the next coming 48 hours.
The application covers:
Wind speed in m/s and in kn
wind direction
pressure
wave height in meters
wave direction
current in cm/s and in kn
current direction
water level in cm
temp in Celcius, both air and water
I works so fast that I didn't belive it was working correctly. I controlled the informaion on the chart from the application with the information at www.yr.se. The data from yr.no was equivalent to the data in the application.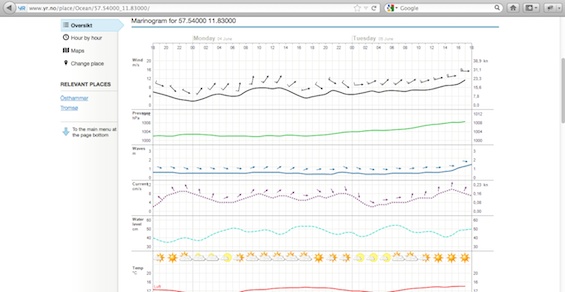 The controlled data is equivelent from www.yr.no but don't trust the weather report at all times and don't paddle in conditions you can't handle.
Link to iTunes: