Warning: A non-numeric value encountered in /customers/d/a/6/globalsurfski.com/httpd.www/wp-content/themes/gonzo/single.php on line 52 Warning: A non-numeric value encountered in /customers/d/a/6/globalsurfski.com/httpd.www/wp-content/themes/gonzo/single.php on line 53 Warning: A non-numeric value encountered in /customers/d/a/6/globalsurfski.com/httpd.www/wp-content/themes/gonzo/single.php on line 54 Warning: A non-numeric value encountered in /customers/d/a/6/globalsurfski.com/httpd.www/wp-content/themes/gonzo/single.php on line 55 Warning: A non-numeric value encountered in /customers/d/a/6/globalsurfski.com/httpd.www/wp-content/themes/gonzo/single.php on line 56 Warning: A non-numeric value encountered in /customers/d/a/6/globalsurfski.com/httpd.www/wp-content/themes/gonzo/single.php on line 57 Warning: A non-numeric value encountered in /customers/d/a/6/globalsurfski.com/httpd.www/wp-content/themes/gonzo/single.php on line 58

Profiles Published on November 5th, 2012 | by Peter Svensson
0
Angie Mouden in top of the Oceanpaddler World Series
The young and talented French surfski paddler Angie Mouden (21 years) reached the first position among the women in the Oceanpaddler World Series after the Breizh Race in France last month. She also reached the no 9 position in the total ranking. That is impressive. Angie is born and raised in the city of Brest in Britanny, France. She has been racing a lot this season and so far competed in six races of the Oceanpaddler World Series. Next up is the Steelcase Dragon Run in Hong Kong. Angie was really kind and answered some questions during her preparations to the race.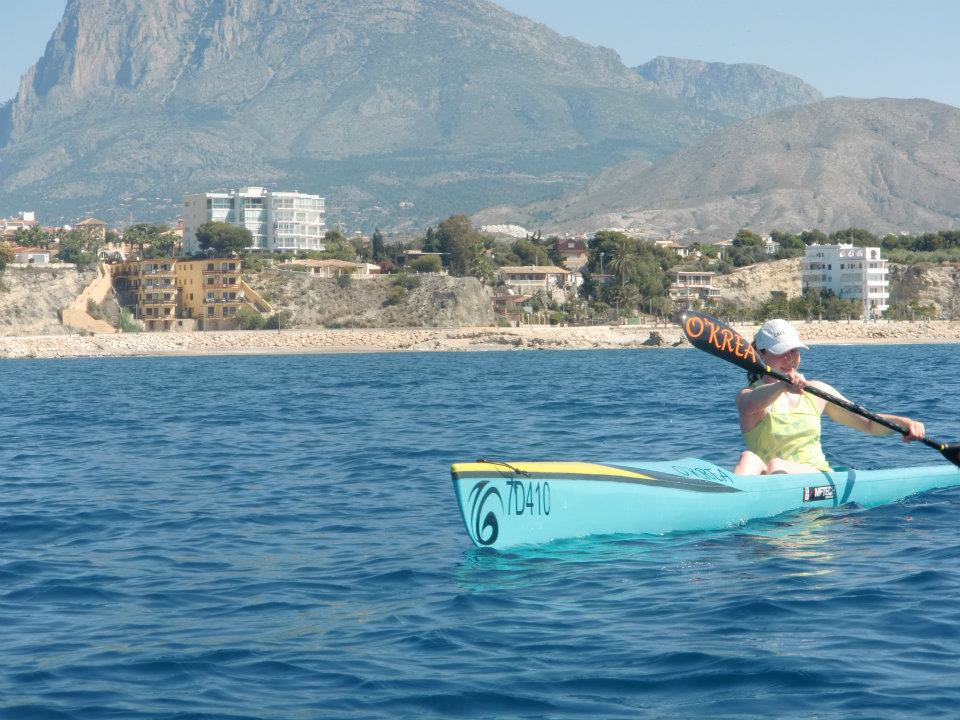 Congratulations to the top position in the OceanPaddler World Series. How does it feel?
Thank you very much! It feels strange because I didn't want to be in this position. What I really want is to paddle with the best women, for example Ruth Highman, Alexa Cole, Michele Eray, Nikki Mocke, Jenna Hawkey and Chloé Bunnet. Most of these women are stronger than me but I'm proud to race with them. To be number one in the ranking doesn't mean that much to me, because what is more important to me is to race with them.
For how long have you been paddling?
I started to paddle 6 or 7 years ago. I have always paddled on the sea. Brest is a costal city. I was mostly doing sea kayaking and white water kayaking in the beginning and no surfski because we didn't have many surfskis when I started with paddling. I have had my own surfski since 2009.
In France, when we are young we have to do at least 2 disciplines but it was hard to keep up with white water even if I loved it. The rivers are very far away from home.  I'm planning to do some flat water racing after the World Championship in July next year because I have a lot to learn in this discipline aswell!
How much do you train? How does a normal week of training for you look like?
I do go on the water almost every day. I love to paddle even if it's cold here during winter. I still have a lot to learn about training and I a feeling I can develop my skills (that's why I'm going to South Africa in december. To race and paddle with the best!). A normal week I'm training quite much but I always have at least one day without training and I don't do multiple training sessions. I'm on the water as much as possible but I also do some cross-training. I try to race during the weekends because I think it's the best training for me.

Angie Mouden during the Breizh Race 2012
What do you do as cross-training?
As cross training, I do run a little. I'm biking also a lot at the moment my car is broken so now I'm going everywhere by bike and I love it. It's not real training but I think it helps. I swim a lot (I love water) and I used to do gym exercises but only during winter. I haven't started yet and I don't know if I will start this winter or just do body workout.
What is the most important advice to someone who wants to be a better surfski paddler?
To have fun when you are training! Play with the waves as much as possible and when it's flat just think that It will help you to be better. Keep training as much as you love it!
You have been racing and traveling a lot. Where are the best paddling spots?
Definitely South Africa but also Australia! There are so many people to paddle with! That's what I'm looking for! In France we are quite a few surfski paddlers but we are spread out so we train mostly by ourselves. I'm quite lucky because I'm in a big club so I almost find people every time to train with even if I also go on the water by my own a lot. I think it would be great if we could have as many paddlers here as those countries have!
I also think that Britanny (places like Portsall, Quiberon, Landeda & Etel ) is one of the best place to train (not for the cold weather but…). In Britanny it is lots of waves, storms, technical places, swell and wind waves. I have learned a lot here so I think it's a very good place but we don't have as many paddler as the other countries.
In most races there are just a few women? Why do you think there are so few? How can we increase the numbers of female surfski paddlers?
I don't know why we are so few !! I would love to meet all the women in one race! It's like a dream to me. I'm a student so I have the time and I also plan my time to do be able to do my passion. Maybe the others have things to do and responsabilities that I haven't?
I have ask myself how we can increase the interest among women a lot of times but I don't have the answer. When I come back from a race, the first thing that I want to do is to go back on a race again because I love it so much! And I especially love the downwind races because I think technical races are the best for women. I will never be as strong as a man but I have very good techniche in waves, so I can try to beat them in technical conditions. Races against wind is to hard for me and not that fun. But that is the game with surfski! So when we have downwind and waves I'm really happy!  Maybe girls have to get those feelings … I don't know!

Who is your hardest rivals?
Like I said at the beginning, there are quite a few top paddlers and I have a profond respect for all of them and I don't want to say that they are my rivals. I just love to race with them! And if I can race and learn from them at the same time… What can I ask for more?!
You have been paddling six races so far and you are about to race in Hong Kong next weekend. Have you planned any more races this winter?
Yes, I will be in Cape Town for the race in December! It's a dream come true! I will stay at least for 4 months and I will see what races they have. Just paddling there and to meet people will be great! I love that.
Thanks a lot Angie for taking your time! Good luck and happy racing in Hong Kong! 🙂