Warning: A non-numeric value encountered in /customers/d/a/6/globalsurfski.com/httpd.www/wp-content/themes/gonzo/single.php on line 52 Warning: A non-numeric value encountered in /customers/d/a/6/globalsurfski.com/httpd.www/wp-content/themes/gonzo/single.php on line 53 Warning: A non-numeric value encountered in /customers/d/a/6/globalsurfski.com/httpd.www/wp-content/themes/gonzo/single.php on line 54 Warning: A non-numeric value encountered in /customers/d/a/6/globalsurfski.com/httpd.www/wp-content/themes/gonzo/single.php on line 55 Warning: A non-numeric value encountered in /customers/d/a/6/globalsurfski.com/httpd.www/wp-content/themes/gonzo/single.php on line 56 Warning: A non-numeric value encountered in /customers/d/a/6/globalsurfski.com/httpd.www/wp-content/themes/gonzo/single.php on line 57 Warning: A non-numeric value encountered in /customers/d/a/6/globalsurfski.com/httpd.www/wp-content/themes/gonzo/single.php on line 58

News Published on March 4th, 2013 | by Peter Svensson
7
Invitation to the Surfski Spring Camp 2013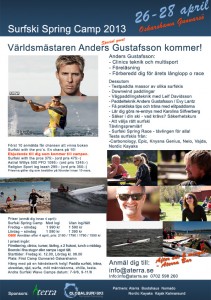 Updated:
It is time to register to the Swedish Surfski Spring Camp 2013. It is held in Oskarshamn, on the 26th – 28th of April. Oskarshamn is located on the Swedish east coast 340 km south of Stockholm and 400 km north east of Copenhagen, Denmark. There will be some news compared to last year. The new organzier, Aterra, has slightly different approach. Oskarhamn offers better accomodation and also gives more opportunities to downwind courses. The camp is perfect for all levels of surfski paddlers, from beginner to elite as well as paddlers interested in multisport.
Anders Gustafsson from the Swedish national team in kayak racing is coming! He finished in fifth place (1 000 meter) during the olympics in London 2012 and won the European Championships (500 Meter) last year. It is time for us to speed up.  At the moment he is training in Australia during our winter season.
Program
Clinics with Anders Gustafsson, paddling technique, multisport aswell as lectures.
Downwind paddling sessions
Wave technique with Leif Davidsson
Paddling technique with Anders Gustafsson / Evy Lantz
Re-entry courses with Karolina Silfverberg
Safety courses
How to choose the right surfski for you
Surfski Spring Race – The first surfski race for the season!
There will be a number of surfskis available to try from different manufactures:
– Carbonology
– Epic
– Knysna Genius
– Nelo
– Vajda
– Nordic Kayaks
Price:
Surfski Spring Camp: with  accomodation / camping
Friday to sunday  1 990 SEK / 1 590 SEK
Saturday to sunday 1590 SEK  / 1 290 SEK
Registration is open
Register here (There are only 60 spots available for the camp at the moment. Aterra is working on a solution to increase the availability. I will update the availablity here) The first 10 to register (marked in red) will have a chance to win a copy of Surfski with the pros by last years instructor Dawid Mocke .
Already registred
Anders Gustafsson

Sven Jansson

Karolina Silfverberg
Jeanie Sandquist
Evy Lantz
Peter Svensson, globalsurfski.com
Erik Wallgren, Nomado
Fredrik Lindström, Nordic Kayaks
Christian Dietz, Bootshaus
Leif Davidsson, Aterra
Eva Egnell, Kajak Kalmarsund
Peter Ekström

Hans Kristian Stölen

Oddbjörn Nilsen, Norway

Patric Petersson

Christina Holm

Hans Strand

Ola Ström

Hanna Isaksson

Peter Klasson

Pedro Pontes

Maciej Chwieros

Anders Karlsson
Johan Senbom
Viktoria Willén
Trent Victor
Per Afrell
Agneta Bergman Fredriksson
Jacob Holst
Oscar Celsing
Theresia Uggla
Sven Reiten
Torbjörn Strand
Patrik Nedar
Stig Nygård
Anders Ohlsson
Susanne Ohlsson
Niklas Lagesson