Warning: A non-numeric value encountered in /customers/d/a/6/globalsurfski.com/httpd.www/wp-content/themes/gonzo/single.php on line 52 Warning: A non-numeric value encountered in /customers/d/a/6/globalsurfski.com/httpd.www/wp-content/themes/gonzo/single.php on line 53 Warning: A non-numeric value encountered in /customers/d/a/6/globalsurfski.com/httpd.www/wp-content/themes/gonzo/single.php on line 54 Warning: A non-numeric value encountered in /customers/d/a/6/globalsurfski.com/httpd.www/wp-content/themes/gonzo/single.php on line 55 Warning: A non-numeric value encountered in /customers/d/a/6/globalsurfski.com/httpd.www/wp-content/themes/gonzo/single.php on line 56 Warning: A non-numeric value encountered in /customers/d/a/6/globalsurfski.com/httpd.www/wp-content/themes/gonzo/single.php on line 57 Warning: A non-numeric value encountered in /customers/d/a/6/globalsurfski.com/httpd.www/wp-content/themes/gonzo/single.php on line 58

Surfskis & Gear Published on October 1st, 2013 | by Peter Svensson
1
Optimize your storage
Janne Bengtsson struggled to get his surfski in and out of the apartment as you may noticed the other day. Janne has not only optimized the training with the cart to his bike / surfski. He has also optimized the apartment to be able to store two surfskis.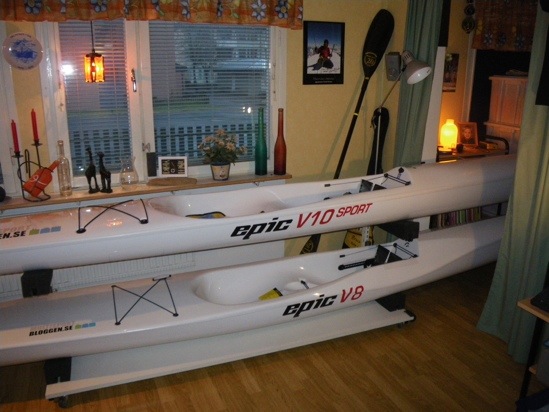 Here is an example how to store your surfskis! At the moment Janne only has one surfski.

Where do you keep your surfski? Please send me a photo if you have some special/unique way to store your surfski.