Warning: A non-numeric value encountered in /customers/d/a/6/globalsurfski.com/httpd.www/wp-content/themes/gonzo/single.php on line 52 Warning: A non-numeric value encountered in /customers/d/a/6/globalsurfski.com/httpd.www/wp-content/themes/gonzo/single.php on line 53 Warning: A non-numeric value encountered in /customers/d/a/6/globalsurfski.com/httpd.www/wp-content/themes/gonzo/single.php on line 54 Warning: A non-numeric value encountered in /customers/d/a/6/globalsurfski.com/httpd.www/wp-content/themes/gonzo/single.php on line 55 Warning: A non-numeric value encountered in /customers/d/a/6/globalsurfski.com/httpd.www/wp-content/themes/gonzo/single.php on line 56 Warning: A non-numeric value encountered in /customers/d/a/6/globalsurfski.com/httpd.www/wp-content/themes/gonzo/single.php on line 57 Warning: A non-numeric value encountered in /customers/d/a/6/globalsurfski.com/httpd.www/wp-content/themes/gonzo/single.php on line 58

Australia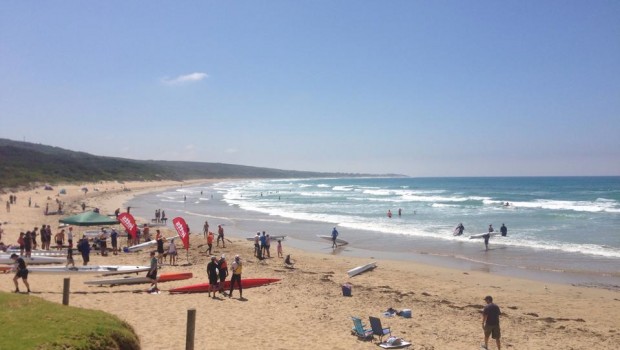 Published on February 3rd, 2014 | by Peter Svensson
0
Great Ocean Paddle
A part of the Ocean Paddler, Australian Ocean Racing Series, the Outlaw Paddling, "Great Ocean Paddle" was held from Fisherman's Beach, Torquay to Urquhart's Bluff on Saturday (Feb 1st).
Unlike the previous 3 years where paddlers enjoyed strong SW down wind conditions, paddlers faced a very light easterly breeze which saw the course being reversed. With over 100 paddlers in the field, including a contingent of interstate paddlers attending including Cory Hill and Greg Tobin, the 24km course still offered paddlers some assistance if they were prepared to work for it. This made for a fun, but at times painful race, that saw the big guns of Australian ocean paddling come out on top of the locals. In the men's open division Cory Hill came in first with Greg Tobin in second and Sam Myatt in third. Fourth overall, and first in the over 40 men's was local paddler and coach, Tim Altman, with Rob Nichols 2nd (and 5th overall) and Sth Australian legend, Jamie Beavis 3rd (and 6th overall).
In the women's open race, local paddler and 2013 20 Beaches winner, Kate McGrath scorched the field, with local vet Wendy Rentjies (2nd in the recent Doctor race) coming in second followed by Lisa Wadling in third. Trish, who had traveled from the other side of the continent (WA) came in first in the over 40 women.
It was a tough day at the office, but conditions made it a lot gentler on the novice and intermediate paddlers and, with only 2 withdrawals for the whole paddle, there were many smiles at the end of the race.
As always, the highlight of this event has to be the course. Following the spectacular coastline of the world famous Great Ocean Road, this is truly one of the most picturesque races in the world. One that all newcomers to the event never forget. I spoke to one very eminent paddler from interstate, who couldn't resist stopping a few times to take photos of the coastline.