Warning: A non-numeric value encountered in /customers/d/a/6/globalsurfski.com/httpd.www/wp-content/themes/gonzo/single.php on line 52 Warning: A non-numeric value encountered in /customers/d/a/6/globalsurfski.com/httpd.www/wp-content/themes/gonzo/single.php on line 53 Warning: A non-numeric value encountered in /customers/d/a/6/globalsurfski.com/httpd.www/wp-content/themes/gonzo/single.php on line 54 Warning: A non-numeric value encountered in /customers/d/a/6/globalsurfski.com/httpd.www/wp-content/themes/gonzo/single.php on line 55 Warning: A non-numeric value encountered in /customers/d/a/6/globalsurfski.com/httpd.www/wp-content/themes/gonzo/single.php on line 56 Warning: A non-numeric value encountered in /customers/d/a/6/globalsurfski.com/httpd.www/wp-content/themes/gonzo/single.php on line 57 Warning: A non-numeric value encountered in /customers/d/a/6/globalsurfski.com/httpd.www/wp-content/themes/gonzo/single.php on line 58

South Africa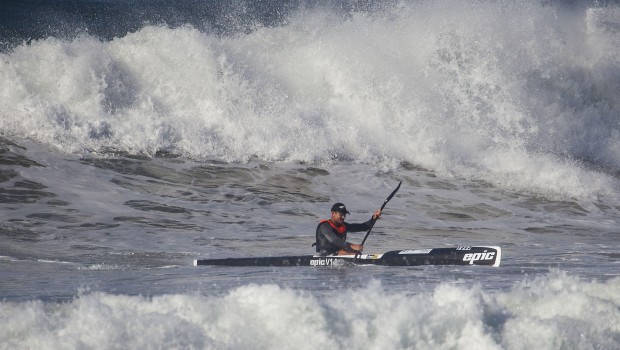 Published on June 21st, 2014 | by Peter Svensson
0
Dramatic SA titles for Mocké & Russell
Durban – The conditions may have been tame for much of the 26km opening day of the FNB Mazars Durban Downwind surfski race but the racing was action-packed and laden with drama as Jasper Mocké and Nicole Russell clinched their maiden men's and women's South African Single (S1) Surfski Championship titles.

With the hoped for downwind conditions not materializing on Saturday morning and flat open ocean conditions, a stiff headwind and massive 10 foot surf at the finish, developing instead it was a slog for all participants as they made their way from Marine Surf Lifesaving Club at Durban's Addington Beach to La Mercy Beach on KZN's North coast.
Having won his two national surfski titles in a double ski previously, Fenn Kayaks/Mocké Paddling Gear's Mocké clinched his maiden individual SA crown in dramatic fashion after race leader Hank McGregor (Epic Kayaks/Team Jeep) was thrown from his ski by the massive surf just metres from the finish line.
"Obviously I felt for Hank and, out of respect for him, I didn't claim the win when I crossed the line but at the same time the race is to the finish line and I managed to get there first and I'm just so stoked to have my first individual SA surfski title!" explained a visibly proud Mocké afterwards.
"Hank had led for most of the way but that was probably still one of my greatest paddles ever and to beat guys like Hank and Sean (Rice) in the shape they're in and in these conditions is something not many in the world would have been able to do so I'm really chuffed!"
After a large bunch formed at the front of the men's race in the first portion of the encounter which saw paddlers charge across Durban's bay, it was McGregor who had opened up a decent lead by the time they headed around the point at Umhlanga with Mocké, Rice and van der Walt in hot pursuit.
McGregor's lead had been halved by the time he and Mocké neared the finish however another major obstacle in the shape of the massive surf at La Mercy Beach still awaited. With Mocké breathing down his neck McGregor made the charge but a wave caught him from behind and tossed him from his ski, opening the door for a calm Mocké to surge into the lead and across the line first.
A disappointed McGregor came home just seconds later while 2013 SA Champ Sean Rice (Think Kayaks) rounded out the men's podium. The ever-present figure of Epic Kayaks' Matthew Bouman had a strong second half to finish fourth while van der Walt finished fifth.
Kenny Rice (Think Kayaks) was the first under-23 across the line in seventh after he was narrowly out-sprinted up the beach by veteran Herman Chalupsky (Epic Kayaks) while a remarkable effort by grand-master competitor Lee McGregor, father of Hank, saw him close out the top 10.
The women's race was a hard-fought affair as Fenn Kayaks' Nicole Russell claimed the first ever national title of her career ahead of the Western Cape's Nikki Mocké and rising KZN under-23 star Jenna Ward.
"That was my best paddle ever and I'm just so stoked to have won my first SA title," said an ecstatic Russell.
"I had a poor start and I only managed to catch Nikki (Mocké) after three kilometers. Once I caught her though I was feeling really good and so I had to decide whether to look to breakaway on my own or sit there with Nikki. Eventually I decided I had to back myself and just go for it!
"It was a really tough grind, especially with the headwind. Fortunately Lee (McGregor) has been really drilling us so hard for both marathon racing and the Berg at the MacSquad and so I think these conditions actually played into my hands.
"With 5km to go I was shattered though but my main concern by then wasn't actually the final few kilometers but more getting in through the surf!
"Fortunately I got through cleanly and then to run up the beach to finish ahead of a phenomenal paddle like Nikki is just such a special feeling!" she added.
Ward was the first under-23 woman across the line while Orka Squad's Kirsten Flanagan claimed the spoils in the under-18 girls division.
With the event doubling as the 2014 SA S1 Surfski Champs, much of the focus was on the sharp end of the field however the event also played host to both the 2014 KZN and Gauteng Surfski Championships with provincial winners crowned across all age groups.
Sunday sees the doubles (S2) racing take place with organiser Barry Lewin looking to take advantage of the light north-easterly breeze predicted by taking the paddlers south to Amanzimtoti from Marine SLC. The action gets underway at 13h00. More info can be found at www.durbandownwind.co.za
SUMMARY OF RESULTS – FNB MAZARS DURBAN DOWNWIND SA S1 SURFSKI CHAMPIONSHIPS
Overall
1.Jasper Mocké 1:49.34
2.Hank McGregor 1:49.49
3.Sean Rice 1:50.58
4.Matthew Bouman 1:52.24
5.Grant van der Walt 1:54.49
6.Dawid Mocké 1:56.12
7.Herman Chalupsky 1:57.17
8.Kenny Rice (U23) 1:57.20
9.Steve Woods 1:57.50
10.Lee McGregor 1:58.44
11.Jean Luc Mauvis 2:00.00
12.Hennie Roos 2:02.25
13.Gene Prato (U23) 2:02.26
14.Craig Flanagan (U23) 2:02.26
15.Warren Valentine 2:02.52
16.Richard Burn 2:02.58
17.Peter Cole 2:03.10
18.Stretch Struwig 2:03.51
19.Jason Ekstrand 2:04.20
20.Shanti Stewart 2:05.02
Women
1.Nicole Russell 2:14.49
2.Nikki Mocké 2:17.39
3.Jenna Ward (U23) 2:24.37
4.Kirsten Flanagan (U18) 2:33.08
5.Lauren Felgate (U23) 2:40.11
Under 23 Men
1.Kenny Rice 1:57.20
2.Gene Prato 2:02.26
3.Craig Flanagan 2:02.26
Under 23 Women
1.Jenna Ward 2:24.37
2.Kirsten Flanagan (U18) 2:33.08
3.Lauren Felgate 2:40.11
Under 18 Men
1.Mark Keeling (U16) 2:07.18
2.Keagan Kok 2:09.17
3.Jordan Clauson 2:10.49
Under 18 Women
1.Kirsten Flanagan 2:33.08
2.Kyeta Purchase (U16) 2:40.32
Under 16 Boys
1. Mark Keeling 2:07.18
2.Joshua Fenn 2:15.49
3.Bailey de Fondaumiere 2:17.30
Under 16 Girls
1. Kyeta Purchase 2:40.32