Warning: A non-numeric value encountered in /customers/d/a/6/globalsurfski.com/httpd.www/wp-content/themes/gonzo/single.php on line 52 Warning: A non-numeric value encountered in /customers/d/a/6/globalsurfski.com/httpd.www/wp-content/themes/gonzo/single.php on line 53 Warning: A non-numeric value encountered in /customers/d/a/6/globalsurfski.com/httpd.www/wp-content/themes/gonzo/single.php on line 54 Warning: A non-numeric value encountered in /customers/d/a/6/globalsurfski.com/httpd.www/wp-content/themes/gonzo/single.php on line 55 Warning: A non-numeric value encountered in /customers/d/a/6/globalsurfski.com/httpd.www/wp-content/themes/gonzo/single.php on line 56 Warning: A non-numeric value encountered in /customers/d/a/6/globalsurfski.com/httpd.www/wp-content/themes/gonzo/single.php on line 57 Warning: A non-numeric value encountered in /customers/d/a/6/globalsurfski.com/httpd.www/wp-content/themes/gonzo/single.php on line 58

Reviews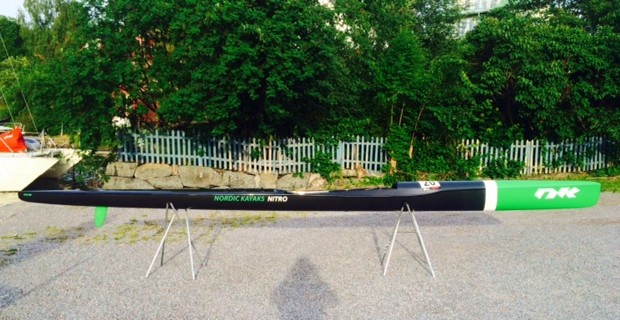 Published on June 26th, 2014 | by Peter Svensson
1
Thoughts about Nordic Kayaks Nitro
Paul Rosenquist is one of the best surfski paddlers in Sweden. He started to paddle the new surfski models from Nordic Kayaks this year. Read his thoughts about the NK Nitro and NK Nitro+.
I've known Fredrik that runs Nordic Kayaks for about as long as I've been paddling in Sweden. From day one when I lowered my bum into a Surfski I've been in it for paddling the perfect downwind in the areas that are accessible to me. During my first years a Surfski was a real oddity in Sweden. My enthusiasm for paddling in whatever waves, and some pretty decent results made by half descent paddlers in various popular long-distance races in Sweden slowly turned the spotlight on these funny looking craft. Adventure racers were quick to catch on as they understood that the need for crawling in and out of a cockpit during portages and transitions was gone and that these boats are pretty fast and more stable than the regular adventure K1's they were using.
NK was by then doing some very specialized adventure racing K1's, and understood the benefits of surfskis for adventure racers. I think it was with this group of paddlers in mind that the first skis were developed by NK. Fredrik has always been keen to get my comments on new prototypes and has always been pushing the envelope for what technically is possible when it comes to construction. Cooperation's with Sweden's (the worlds?) best carbon-fibre experts resulted in some insanely light (8,?kg) craft that also looked like nothing else.
But the skis that came out were not really my thing. I was in it for catching bumps so small you can hardly see them, and ride storms on open water. The first skis from NK were great long-distance mile eating machines but I didn't really feel at home in them. Many, many adventure racers did tho.
Years went on, and after years in my trusted V10 performance I paddled a half summer in a Red70, a year in a V12 Ultra, 2 years again in a V10 Ultra, 1 year in a Hawx, and 2 weeks in a V14 ultra this winter.
It was last year that NK came out with the first version of the NITRO. When Fredrik started sending me drawings or digital renderings of the ski I noticed directly that this could be a Surfski that really works how I think ski should work. The shape just looked right to me. I guess all my life of being on high performance craft from rowing to sailing to paddling etc has given me the ability to at least on a glance be able to judge for myself if it is something that will work or not. Obviously this is not always the case… The first kayak I ever bought was based on this knowledge and I could hardly sit in it…eventually I could, but the wake of a duck could get me swimming. I wont mention what boat it was but I started with Sea and ended with ish.
So I always judge ski's by these guidelines and they need to check each box more or less for me to really like it, and I think all the skis (some exception) that I mentioned above more or less do.
Well built, reliable quality, nice finish
Good working rudder setup, no play in the rudder pedals, stiff footboard, well balanced surf rudder, safe system that doesn't wear out quick.
Easy hull shape that has enough volume to get lift from bumps, turns easy enough, keeps its line enough
A bucket that's comfortable without padding, and easy to re-enter
A brand that has international ambitions and wants to be at races and supports them
Come this winter, the winter that never came, and I felt that I should try the next generation of super fast skis. I bought a used V14, and noticed directly during the midwinter / early spring sessions that I was putting down average speeds that I normally would only see by the end of the season when I'm in best shape. Sweden being blessed with proper winters usually means some months of the water. At least for me that is, as I have become just plain lazy. This winter I had the most hectic work and travel period ever, and training really had to be squeezed into weird gyms at hotels and airports, and combined with trips to exotic locations. Its safe to say that I did manage to put in a rather normal amount of hours, but they were not so organized. An hour of power is by far the session that I like best, do best, and that has done most for me. It basically means a non stop 60minutes grind in a rather low cadence with high pressure and high focus on the result (avg speed, distance etc). This session on a paddle erg gives me a good feeling of where my form is. I noticed that despite the work and travel, my 60min distances were as normal for when they are good. Promising!.
By March I felt it was time to get on the water and try the V14. Where I usually have to work hard to avg 12km/h on my hour sessions on the water I noticed directly this was very easy. On flat days avg 12,3 was standard. In cold slow water with loads of gear on! I felt the V14 was fast on flat, and had no maximum speed..paddle harder, it goes faster, it never sits down into the water and says 'hey, this is as fast as I go'. This does come at a price, and I was wondering in the back of my mind….on a big day on unknown waters…would this be the ski I want to bring on my car?… Meanwhile I was enjoying the flatwater and some amazing newly found speed.
April finally showed up and somehow Fredrik and I got in touch. I had noticed that NK had pulled all the stops and has come out guns blazing with 2 new Nitro models being their fastest racing skis, and 3 more models ranging between low volume fast, to entry / intermediate level. I also knew that Fredde has been travelling back and forth to Asia all winter and that he's working with a factory that I knew was one of the best.
The new Nitro's looked pretty good on paper. There just doesn't seem to be anything wrong with the shape when I look at them. Clean, easy lines, some rocker, some volume, it just seems to be there where you want it to be. Perhaps they don't stand out shapewise as very extreme. But that is what I liked. They look…predictable. Really important when paddling in hectic conditions. Surfski paddling is all about predicting! Where will the next hole ahead of me appear, what will the ski do then, where shall I go next… These questions are mega important. Where the next hole will appear you can not influence, you can only guess it, and the answer will present itself soon. What will the ski do then, however you can influence by choosing different skis, some do things you do not want it to do, some do nothing, some do exactly what you expect (predict) them to do. Where shall I go next, is so important, as this enables you to link runs and rides together. To be able to answer that question you need a ski that has lived up to your expectations and predictions. It needs to be able to go where you want it to go. All of the above is highly dependent on your skill level and your endurance level….however, also on what ski you are sitting in.
I picked up a Nitro+ in a Kevlar layup and Nitro in full carbon.  The + is a half cm wider than the Nitro and has a bit more volume in its hull, and slightly higher gunwales and in this case is white. The Nitro has a transperant clear coat on it and is therefor carbonfibre black. The cockpit has black gelcoat in it tho.
Lets have a look at it:
Finnish
About as good as you can get it. They are hand made obviously and this means you can see minor imperfections on the seem for instance. But honestly, its as good as a human can do it, and looks very slick! Also the tricky parts, where the rudder goes in and out, where the lines come out, etc are all done with great care and finished of nicely. The whole thing just oozes… quality. When picking Nitro+ in Kevlar up it feels very familiar to what Epic would call their Ultra layup in weight. I did not check it, but its certainly light enough! The Nitro I paddled is full carbon, and that actually feels very light. The white Kevlar finish is my favorite. Its not as light and feels less hard as the carbon, but the white cockpit and hull for me feels really fresh. Small scratches, paddle strikes are less obvious on the white finish, while on the transparent clearcoat every little scratch becomes a white scratch. The black cockpit also show dirt and scratches much more and it is also hotter in summer. Ideally would be a white cockpit on the carbon ski, but that is just my personal bad taste.
Bits n pieces
The footplate is pretty straightforward solution. Proven technology is used here. A fail safe system that adjusts itself when changing the leg length. The plate and pedals are made out of carbon and have and have foam padding as standard. There are also small rubber bumpers under the plate to protect the hull from damage when pushing hard. Rudder lines are dyneema and hardly stretch. When I push on both pedals simultaneously they move maybe 0,5 cm forward which is acceptable stretch. I like the fact that they did not try to reinvent the wheel here, but I do think some other might see this setup as copied. I think if you compare a BMW car to MERCEDES car you will find the steering wheel being pretty similar as well. Round, leather, plastic, buttons, some fake wood, a logo (different one).
The bailer, is a plastic version of the much used Anderson bailer, which basically means, a small bailer made for sailing dinghies that can be opened and closed. It has a little flap in it to prevent water from backing in if you are laying still, paddling to slow or reversing, however this means you need to open the bailer far enough that the flap actually can flap out, and my opinion is, that the bailer than is nearly 75% open and that is unnecessary much. So I choose to pull the little valve (flap) out, which is easily done, so I can have the bailer just as open as necessary. Paddling at 11/12 km/h and weighing 96kg with paddle means about a 1cm opening for it to just not gurgle. In big conditions 2cm is enough. When wide open it sucks so hard you risk losing bodyparts if not wearing neoprene shorts.
The housing for the rudder is different. Its more or less open to rear end, and the actual t-bar is just covered with a lid by a stainless bolt. Nice touch is that that bolt actually goes down into some stainless steel nut that is laminated into the hull instead of just srews into carbon/glass. However I would probably like to replace that bolt with a plastic knob so you can unscrew it without the allenkey. Which by the way is included and neatly stored behind the footplate…waiting to corrode away…Spraying it with WD40 delays that process.
I like being able to see the T-bar, as you now quickly before you head out into the big blue for the downwind of the year can check if the rudder and t-bar connections is firm. Behind the rudder is also a small deck fitting for an emergency rudder fix with a bungee in case a rudderline might snap. It could I guess also be used by adventure racers that somehow always want to tow someone…
In the cockpit, there is a fitting for your leash just below the bulb, which many skis have now but I never used. I tried it now, and it makes sense. The leash is somehow less in the way when paddling. Compared to attaching it to the foot strap. How strong this anchor point is, I do not know.
Fredrik also treated the Surfski paddlers on 6 deckfittings with bungee behind the bucket. Maybe a design feature, or the ski was to light I don't know but at least it gives even more options for those lucky folks commuting to work with the ski, or those that think that a PFD on board is good enough. Fenn does not have any bungees there and I think I often encounter fellow paddlers scratching their head and wonder..where the heck shall I pack this little bag, etc..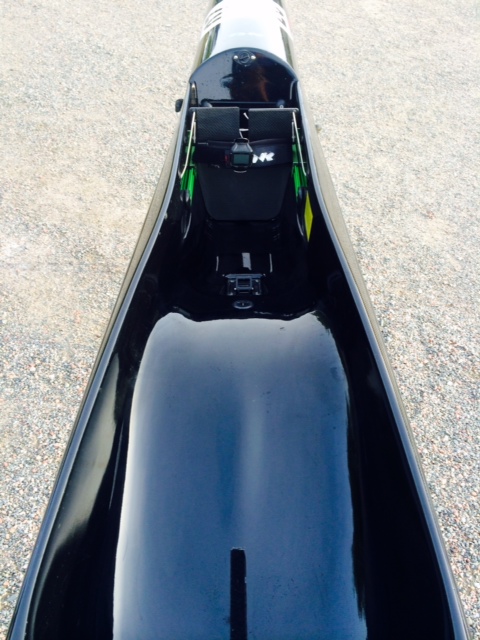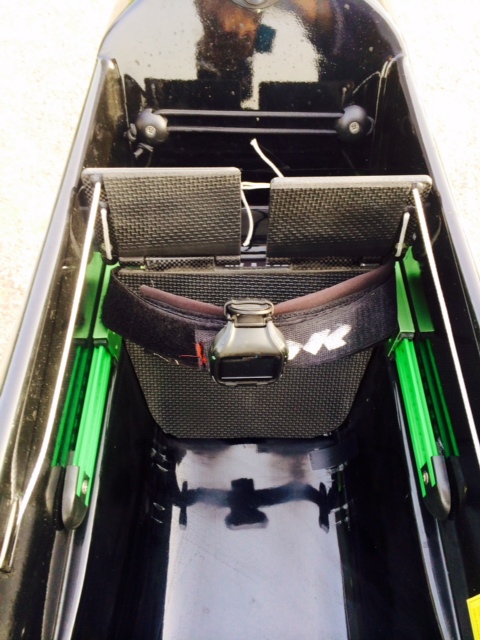 To the water!
To be honest, if I would have need to choose between the two after two short test paddles I would hardly know which one to choose. But they are different, and the good thing is, with hindsight, whichever one I have chosen, I would  be able to argument with myself I made the right choice.
Both directly from the start were easy to paddle away with. For me, perfectly shaped buckets. I experienced the bucket of the Nitro to be slightly deeper and more hollowed out giving a bit more support behind my bum. Also making my paddle shorts chafe a bit more against the lower top of my bum or the lowest part of my back. Not a problem tho, and I blame more the seem on the shorts than the seat. The bucket in the + is a bit more roomy. The bulb is lowish, and when not moving with the bailer open and weighing 0,1 ton as I do, water flow between the bucket and the footwell. Some skis have higher bulbs and you might be able to keep your bum dryer (nice during winter) but on the other hand, you can keep the bailer closed, don't stop paddling, or wear the right clothing… options enough. Nice thing with a low bulb is that you can have pretty straight legs which improves stability, and it enables a better leg drive.
Angle on the footboard is just right. Unlike Fenns for instance, that needs 2 years of yoga classes to be able to get your heel actually touch the board. Its not adjustable, which maybe some K1'ish type of paddlers would like to do. Mine did make a bit of funny squeeshing sounds when pushing really hard, but that disappeared when I filled out the empty space behind the footboard with some closedcellfoamblocks. This reduces volume for water to accumulate and gives the footboard that really concrete solid feel that I like. Being an ex rower I guess I still like to use my legs as much as possible.
I directly noticed that the plus is a friendly ski, but with attitude. Definitely a thoroughbred racer, as I noticed the cruising speeds where right there where I wanted them to be. More stable than the V14, and more spicy than the V10 was my immediate reaction. After having paddled the plus in flatwater races, big downwinds, ferry wake riding and ski races on tiny swell conditions, I feel very confident in my judgment of this ski. It is SO undramatical to paddle. Very predictable in the downwind, fast enough on the flat, and so stable that you dare take it out on any day. For me this really grew into to the one do it all ski that I could feel really happy with on any race. Being on the wild west coast, or on flat downtown Stockholm. I have completely crushed all my best times this spring using the Plus, and this to me really proves that it's a fast ski. I think some of my regular training and racing buddies can confirm this. The downwinds I paddled, were all a real joy where I really felt that the winter looking at youtube videos from Rob Mosely in Capetown and Boyan in Tarifa came to life and finally it was my turn again. To sit in a ski that is predictable and fast, that allows you to do what you want to do is just fantastic.
So I can't really say much more about the plus. Stable, fast enough, easy, predictable, nothing crazy, just plain good, as real a surfski should be.
Than came the day Fredrik needed his Plus back for some demoing and he provided me with the Nitro. By then I was sure…the plus is my ski…its all I want a ski to be… but this changed rather violently after a very short paddle with a mate. He was paddling my V14 and I was in the Nitro. We were just going for a short flatwater cruise as we were both recovering from a tough weekend of racing and it was 07:00 in the morning. We left the dock and after 200meters I noticed my gps settling at 12,5 km/h. WHAT?  I'm just cruising. My mate was wondering if I was in a hurry… ok this ski is even faster. Definitely s bit more wobbly to. When getting in you might feel less comfortable pressing the buttons on your gps for instance. But there is a solid secondary stability. But initial stability is less than the plus. I would still want to judge it a few % more stable than a V14 but not many. I have now done a couple of 'hour of power' in it as I call my 60minute grind, and records are being pulverized with each session. Even when I really tell myself to take it easy this time, I end up cranking hard..its an addictively fast ski. Last weekend possibilities for a relatively big downwind appeared. I installed the bigger rudder for this one. Conditions were fantastic. Our coarse was slight angled over a 1,5 meter wind swell with 20knots at a 70degree angle. I would say the Nitro is a bit more tricky to handle than the plus…still predictable, and easy to maneuver all over the wave. When riding the swells up high, keeping the nose out of the water you can keep it pretty dry. But when going for the wild and crazy dash down the wave you will get wet. Volume in the nose is enough to make it pop up when at speed and maneuvered in the right direction. Popping over waves at speed is easy.
I also managed to do a flatwater race downtown. A 9km race where I spent 75% (arguable obviously ;-)) of the time paddling alone or in the front of our 2man bunch. I bested my avg time from 12,65 to 13,35 and conditions were not ideal.
Sure I think Im paddling technically slightly better than before. But the ski is letting me do that to. The seat in the Nitro feels slightly higher than the plus, and therewith slightly higher than most skis. This really makes the position better from a efficiency point of view, but obviously it comes at a cost for some stability. The area where your calves are is tight in the Nitro. Much more open with the V14, and a bit more in the middle with the Plus. However, Im not tiny, and you get used to the snug fit. It also gives some support and contact when paddling in big water with the ski moving in all sorts of directions.
So after having written all this, I think that if id have to buy one ski..its still the plus that would be my choice, but I would definitely be asking Fredrik if he could borrow me that Nitro every now and then. The reason to choose the plus is simply because paddling downwind is the goal, and everything else is just practice for that. And when a good downwind comes, I just want the ski to do what I want, and I do not want to have a voice in the back of my mind saying…you should have a more stable ski for this day…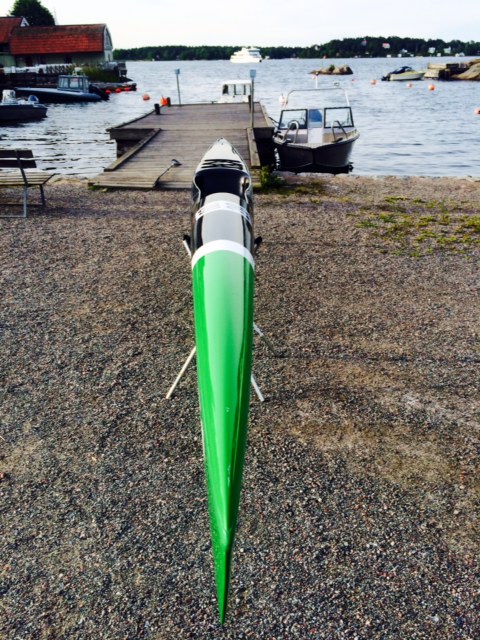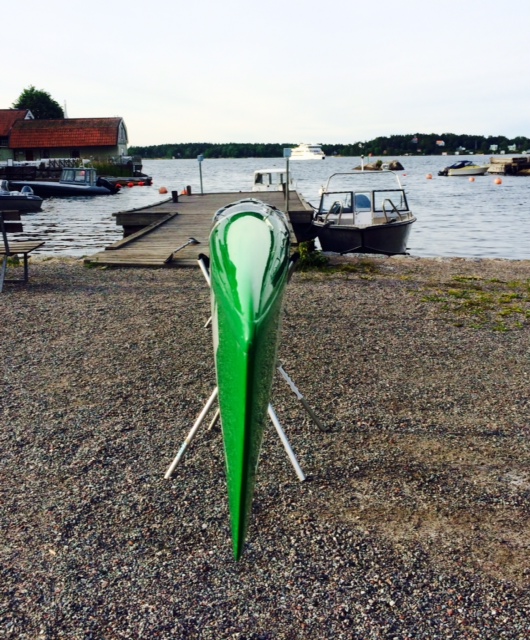 For many paddlers both skis might be to tippy, and not a great choice. And for those perhaps choosing between a NK Squall, a V10 Sport or perhaps NK Storm could be a better choice. But much has to do with what kind of paddler you are and where you want to paddle. If down town city paddling is your thing and all races are flat or just have some boat swell, I guess you could be more aggressive with your choice of ski…how ever..if you own a car with a roofrack and your smartphone has more weather apps than socialmedia apps than you should perhaps be thinking a bit more towards a more conservative option.
In any case, have fun on the water and see you on it or in it.
//Paul Rosenquist
Links: