Warning: A non-numeric value encountered in /customers/d/a/6/globalsurfski.com/httpd.www/wp-content/themes/gonzo/single.php on line 52 Warning: A non-numeric value encountered in /customers/d/a/6/globalsurfski.com/httpd.www/wp-content/themes/gonzo/single.php on line 53 Warning: A non-numeric value encountered in /customers/d/a/6/globalsurfski.com/httpd.www/wp-content/themes/gonzo/single.php on line 54 Warning: A non-numeric value encountered in /customers/d/a/6/globalsurfski.com/httpd.www/wp-content/themes/gonzo/single.php on line 55 Warning: A non-numeric value encountered in /customers/d/a/6/globalsurfski.com/httpd.www/wp-content/themes/gonzo/single.php on line 56 Warning: A non-numeric value encountered in /customers/d/a/6/globalsurfski.com/httpd.www/wp-content/themes/gonzo/single.php on line 57 Warning: A non-numeric value encountered in /customers/d/a/6/globalsurfski.com/httpd.www/wp-content/themes/gonzo/single.php on line 58

Greece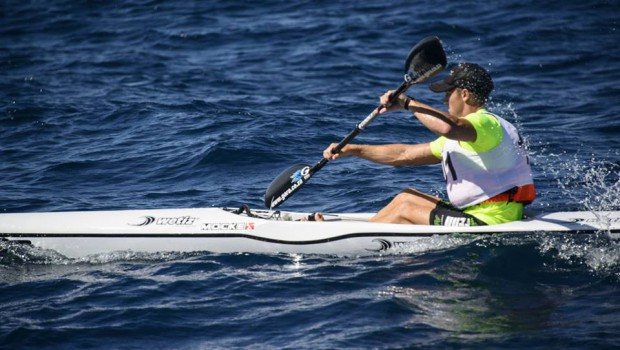 Published on August 2nd, 2014 | by Peter Svensson
0
Aegean Surfski Race 2014 results
In technical downwind conditions Jasper Mocke defended his title and won the Aegean Surfski Race 2014, in Varkiza south of Athens, Greece. Joep van Bakel, finished 2nd and Gery Hadvina, finished in 3rd position. (All photos: Manianna Tserkezou)
Joep van Bakel thought it was a really good race in technical conditions helping him in his preparation for the European Championships in two weeks. Read his thoughts from the Aegean Race:
It was a real technical race. After the beachstart we raced 600 meter to a turning point. Jasper and myself arrived there at the same time. From there we had a 6 km technical downwind where the waves came slightly from the right. After that we had another 6 km section where the waves really lined-up nicely!! The last 2 km there where only small bumps. All this made it into a REAL surfski race where nobody could washride. Jasper showed that he is worlds nr. 1 surfski paddler when it comes to downwind.
The race organizers really listened to the paddlers. They used the window like they should and picked the best moment to start the race.

The conditons the last two years have been more or less flat. But this year it was good downwind conditons with approx 1,5 meter swell. The race organizer Jonathan Constantine was also happy with the race: "it was a difficult prediction of the weather but we really hit the jackpot, we had a very small weather window and we hit it on the spot… the wind was shifting and we had it downwind for the complete duration of the race…"
My plan was to race in Greece but unfortunately I couldnt make it this year. I will be back in Aegean Race in 2015. Jasper Mocke has done all six races in the World Surfski Series. The rankings will be updated soon at worldsurfskiseries.com