Warning: A non-numeric value encountered in /customers/d/a/6/globalsurfski.com/httpd.www/wp-content/themes/gonzo/single.php on line 52 Warning: A non-numeric value encountered in /customers/d/a/6/globalsurfski.com/httpd.www/wp-content/themes/gonzo/single.php on line 53 Warning: A non-numeric value encountered in /customers/d/a/6/globalsurfski.com/httpd.www/wp-content/themes/gonzo/single.php on line 54 Warning: A non-numeric value encountered in /customers/d/a/6/globalsurfski.com/httpd.www/wp-content/themes/gonzo/single.php on line 55 Warning: A non-numeric value encountered in /customers/d/a/6/globalsurfski.com/httpd.www/wp-content/themes/gonzo/single.php on line 56 Warning: A non-numeric value encountered in /customers/d/a/6/globalsurfski.com/httpd.www/wp-content/themes/gonzo/single.php on line 57 Warning: A non-numeric value encountered in /customers/d/a/6/globalsurfski.com/httpd.www/wp-content/themes/gonzo/single.php on line 58

Surfski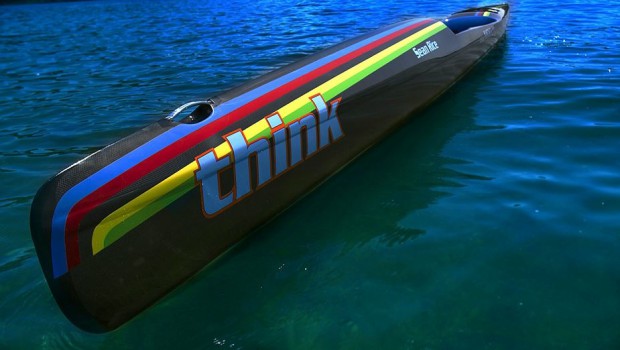 Published on August 18th, 2014 | by Peter Svensson
1
Sean Rice and Teneale Hatton in top of the US Champs
The seventh race in the World Surfski Series 2014, the US Surfski Championships was held in San Francisco on Saturday 16 August and the double race on Sunday 17 August. Sean Rice defended his title from last year with only seven seconds to Jasper Mocke. The very talented Teneale Hatton won the women's race in her first US Surfski Champs.
This year the US Surfski Champs had a new race course and the race became very fast. Sean had an average of over 17 km/h on the the 27 km race course. Sean wrote after the race:
"So happy to have been able to defend my US Surfski title today. The racing was extremely tight with only 7 second separating Jasper Mocke and myself after 1hr 33min and 27km of racing. That's really close considering we both took drastically different courses. The beers will taste sweet as honey tonight!" – Sean Rice
 Teneale Hatton:
"… A very challenging course. A tight women's field. I managed to take the win although Michelle Eray unfortunately had steering issues on the last turn which set her back after having a killer race. Put that race on your to-do list!" – Teneale Hatton
Some of the younger paddlers impressed with really good results and showed that they have the future ahead of them. Ken Rice won the junior 15-19 category and finishing on the 6th place overall. Michael Booth from Australia, 23, finished 7th and Tom Norton also from Australia, 20, finished 9th.
Top 10 Results Men US Surfski Championships 2014
| | | | |
| --- | --- | --- | --- |
| Pos | Name | Category | Time |
| 1 | RICE, Sean | Mens Open 20-39 | 1:33:31.5 |
| 2 | MOCKE, Jasper | Mens Open 20-39 | 1:33:38.9 |
| 3 | ROBINSON, Clint | Mens Masters 40-49 | 1:34:28.7 |
| 4 | MOCKE, Dawid | Mens Open 20-39 | 1:34:52.6 |
| 5 | KIEFFER, Austin | Mens Open 20-39 | 1:36:08.3 |
| 6 | RICE, Ken | Junior Boys- 15-19 | 1:36:30.8 |
| 7 | BOOTH, Michael | Mens Open 20-39 | 1:36:47.1 |
| 8 | NORTON, Sam | Mens Open 20-39 | 1:36:57.0 |
| 9 | TOBIN, Greg | Mens Open 20-39 | 1:37:34.4 |
| 10 | NORTON, Tom | Mens Open 20-39 | 1:37:55.4 |
For full results please visit Webscorer
Results Women US Surfski Championships 2014
| | | | |
| --- | --- | --- | --- |
| Pos | Name | Category | Time |
| 1 | HATTON, Teneale | Women-Open 20-39 | 1:52:09.7 |
| 2 | HOGAM, Maggie | Women-Open 20-39 | 1:54:15.0 |
| 3 | CSEKE, Beata | Women-Open 20-39 | 1:55:58.8 |
| 4 | PODOLAK, Kristen | Women-Open 20-39 | 1:56:32.3 |
| 5 | ERAY, Michele | Women-Open 20-39 | 1:58:12.9 |
| 6 | LAIRD, Georgia | Women-Open 20-39 | 1:58:14.3 |
| 7 | NELSON, Heather | Women- Masters 40+ | 1:59:31.5 |
| 8 | JENSEN, Judy | Women- Masters 40+ | 2:04:38.7 |
| 9 | WARREN, Linda | Women- Masters 40+ | 2:11:18.2 |
| 10 | WATERMAN, Sarah | Women-Open 20-39 | 2:25:22.7 |
| 11 | DAVIS, Sarah | Women- Masters 40+ | 2:28:05.2 |
Results US Surfski Championships 2014 Doubles race
1. Dawid and Jasper Mocke 1:05:48 (first men)
2. Clint Robinson and Greg Barton `1:06:27
3. Sean and Kenny Rice 1:07:07
4. Sam and Tom Norton 1:07:36
5. Austin Kieffer and David Jacobson 1:08:33
6. Oscar Chalupsky and Pat Dolan 1:09:12
7. Dane Sloss and Tommy Woodriff1:09:41
8. Gilles and Julian 1:12:53
9. Michele Eray and Maggie Hogan 1:13:00 (first women)
10 Beata Cseke and Borys Markin 1:13:08 (first coed)
11. Patrick Hemmens and Sarah Waterman 1:14:41
12. Jon Sanborn and Zachary Handler 1:14:44
13. Harald Wattrus and Troy Wuttke 1:15:55
14. Dave and Judy Jensen 1:17:42
15. Medhdi Amini and Marlo Macheco 1:17:43
16. Team Kiko (Paul and Margaret) 1:19:38
17. Juan Lopez and Israel Pagan 1:19:44
18. Heather Davis and Kristen Podolak 1:21:20
19. Jim Wilkens and Kathy Wilder 1:33:54